News
optojog
The operating element featuring infinite rotation, clear LED position indication and variable functionalities.
With optojog HBC-radiomatic presents a smart new development for the control of the most diverse machine functions. This HBC innovation is available for setting a switchable output value ("Value Select"), for the preselection of operating modes ("Mode Select"), as well as a version for choosing and controlling the direction of travel ("Steering Control").
---
Clever feature for push button arrays: push button with tactile indicator.
For the safe and convenient operation of push button arrays at the side of HBC radio transmitters, we now also offer our single-step push buttons with a physical tactile indicator. A small bump clearly confirms to the operator which position / function his finger is currently on in a row of buttons.
---
FST 314 micron M
With the FST 314 micron M, HBC presents a compact, tailor-made radio control for industrial cranes with 3 drives and trolley/hoist preselection. This innovation fits perfectly to the hand and persuades with numerous valuable features.
---
Position Hold. The solution for high-precision pre-setting of target values.
When operating machines, it is often necessary to specify and maintain precise target values over a long period of time. Position Hold is the optimal solution for such applications. Position Hold is a new HBC operating element based on our proven linear levers. Unlike the standard version, the linear lever remains in the selected position.
---
FSE 810. HBC's robust CAN bus receiver with numerous functions in a highly compact design

.
FSE 810 features the latest radio technology, HBC's robust quality, and a space-saving design. This high-performing radio receiver offers numerous CAN bus protocols as well as 4 digital functions and is perfectly suited for a variety of demanding mobile machine applications. Moreover, this all-rounder is equipped with a wide range of useful features and is available with all of HBC's fully automatic frequency management technologies. The service package is perfectly topped off with an impressive functional-safety concept.
---
Spohn & Burkhardt new design!
---

SIS REMOTE wins Innovation Award AGRITECHNICA 2022
⇐More information
HBC-radiomatic is happy about a very special award: Our SIS REMOTE joint project with REICHHARDT GmbH Steuerungstechnik, MDB Srl. and VOGT GmbH & Co. KG has received the silver medal for the Innovation Award AGRITECHNICA 2022.
---
The new USB module is now available for connecting joysticks to the PC world. The encapsulated USB module has analog and digital inputs. All joysticks from Spohn & Burkhardt can be connected via these inputs.

Small compact HS0 joystick with wear-free 3D-HALL sensor technology and a metal drive block. The stable 12 mm metal handle and the small installation depth are further characteristics of this new

analog

joyst

i

ck.Together, they form the basis for reliable use in a wide variety of applications, especially where installation space is limited.
---
Carrying Sets & Carrying Cases
HBC radio controls. Always at hand, never in the way.
Our comfortable carrying sets enable the operator to focus on the respective tasks for extended periods without getting tired. In addition, our large selection of carrying sets guarantee optimum protection of your HBC radio controls at all times, ensuring a long-term performance.
We are pleased to present to you our new catalog including all our current carrying sets and carrying cases for HBC radio controls.

---
Radiomatic® photon: Safe working with camera assistance.
---

Positioning a gripper arm precisely over the load, driving a logistic vehicle through areas with limited view, or applying a drill bit exactly at the desired position in narrow spaces: Our new camera assistance radiomatic® photon is a valuable help for such demanding tasks. Radiomatic® photon delivers live video images to the radio control's color display. The operator always has a good view on the machine and the working environment even in areas with limited view and dead spots. Radiomatic® photon comes with an interface for many cameras made by Orlaco. Depending on the application, cameras with different viewing angles can be used as well as infrared cameras for use in low light conditions or even in darkness. Radiomatic® photon is available for spectrum E, spectrum D (in preparation) and as an option for technos B (in preparation).
---
Micron M:
Compact. Handy. And a real powerhouse.
---

The renowned micron family by HBC-radiomatic gains a new member: micron M features a compact design, has great ergonomic handling and scores with many powerful features – such as the new merlin® technology.No matter if you control a belt conveyor, a high rack or a lifting platform: micron M ensures maximum safety for man and machine, makes work a lot easier and has a lot of power. The built-in Li-ion battery provides the power needed for up to 30 hours of continuous operation. The transmitter is charged inductively with a Quick Charger, which is also used to store the transmitter.
---
Technos A & technos B:
Pure operating comfort with configurable color TFTs.
---

A smart and ergonomic design with high-performing displays and Li-ion exchange batteries: those are the trademarks of our new radio controls technos A and technos B. These two innovations complement the proven technos series by HBC-radiomatic and score with a whole set of useful HBC features – for example the front panel lighting, an integrated flashlight and merlin® TUC (Transmitter User Card). Depending on your requirements, both transmitters are available with joysticks or linear levers as well as diverse other HBC operating elements. This leaves nothing to be desired!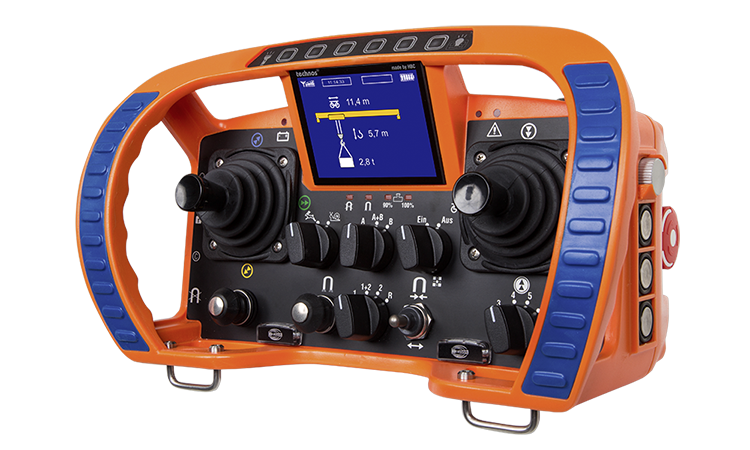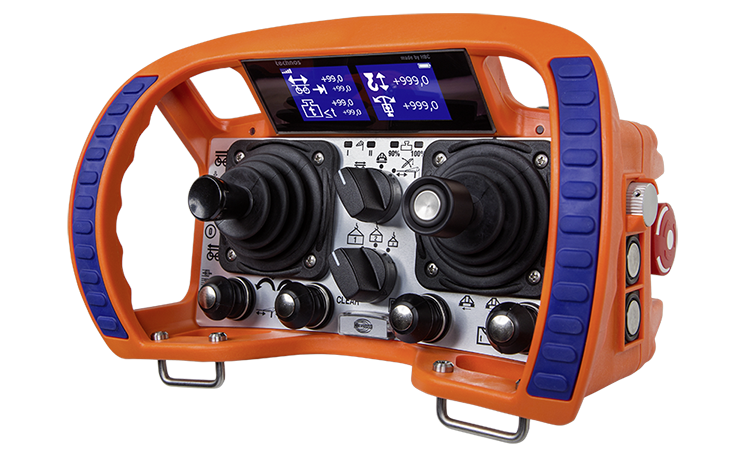 You can find all the details about this innovation (technos A) here.
You can find all the details about this innovation (technos B) here.
---
High-performing, lightweight and rugged quality:
The new generation of HBC joysticks has arrived!


For more than 30 years HBC's full-metal joysticks have been setting industry standards. These premium operating elements developed and manufactured by HBC stand for perfect precision and ideal operating comfort in rugged quality.

Available now, our classic has been updated to a more

innovative

and superior design.

The new HBC joystick – Your advantages at a glance:
State-of-the-art, pioneering technology!

Clever design!

Extremely robust full-metal version!

Lighter and smaller

t

han the previous version = 25 % less weight!
quadrix Ex: now certified according to NEC 500 / 505

The renowned quadrix Ex handheld transmitter by HBC-radiomatic is now certified according to NEC 500 / 505. This compact, intrinsically safe transmitter is now approved for use in Class I, Division 1, Groups C and D hazardous locations as well as Class I, Zone 0, Group IIB hazardous locations in North America.
Also certified according to ATEX for the use in Ex zones 1, 2, 21, 22 as well as Underground in Europe, quadrix Ex is ideal for the most demanding oil and gas applications across the globe that require the highest level of safety.
The quadrix Ex's ergonomic and light weight design allows for easy and comfortable handling over long periods of time. Additionally, its comprehensive safety features and configuration options allows for a wide range of possible applications in the lifting and conveying industry.
As standard, this transmitter comes equipped with 8 two-step push-buttons and two powerful rechargeable NiMH batteries, allowing up to 12 hours of continuous operation. Additionally, radiomatic® iLOG is incorporated into the quadrix Ex transmitter. This easily accessible electronic key allows for the quick activation of a backup transmitter in the event the primary unit is damaged. This is accomplished without the trouble or safety risks involved with field programmers or internal chips. This quick activation also allows the operator to continue working without downtime, saving valuable time and money.
quadrix Ex is available with a whole range of HBC Smart Options – such as radiomatic® report. This innovative option allows for only authorized personnel to operate the remote and can simultaneously collect detailed operational data of the radio control.
Another useful feature is LED feedback. Depending on the configuration of the control, the operator can be informed about errors and warnings such as an impending crane overload. For additional operator safety in specific working situations, quadrix Ex is available with radiomatic® shock-off and radiomatic® zero-g. These intelligent safety features can automatically deactivate the system if the control is dropped, thrown, or takes an impact, preventing the unintended activation of crane or machine functions.
Further useful functions are the trolley pre-selection for cranes with two trolleys as well as the tandem operation of two cranes. With these functions, exceptionally long or bulky loads can be safely and comfortably transported over long distances.
Vacon Truck Tour through Europe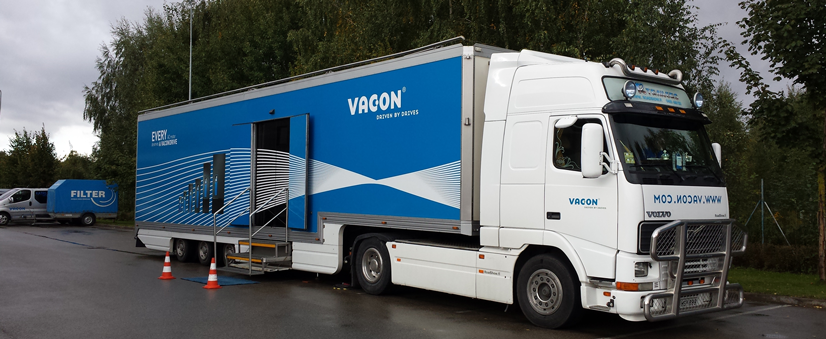 The Vacon Truck had also arrived in Latvia with the innovative

Vacon truck

exhibition, where the industry professionals presented the latest technological developments, advances and descoveries in AC drives sphere.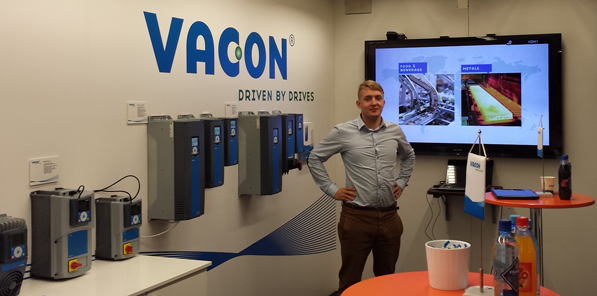 HBC data logger:

Useful operational data conveniently at hand.
With the new HBC data logger you can collect diverse operational data of the radio control exact to the second, for example how long the system was in use or how long specific drive commands have been operated.
You thus always have a whole set of useful information at hand that can for example be used to schedule service work or to calculate costs if you rent out machines.
<!-- [if gte mso 9]>
Normal
0
false
false
false
LV
X-NONE
X-NONE
<![endif]--><!-- [if gte mso 9]>
<![endif]--><!-- [if gte mso 10]> <![endif]--><!-- [if gte mso 9]>
<![endif]--><!-- [if gte mso 9]>
Normal
0
false
false
false
LV
X-NONE
X-NONE
<![endif]--><!-- [if gte mso 9]>